Dyes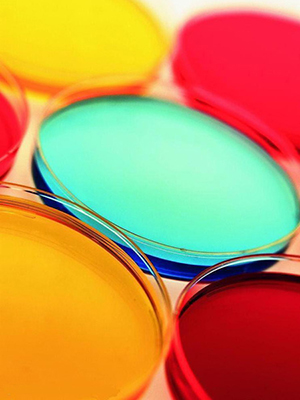 YANCUI has been in dyestuff industry for 20 years, internationally recognized for its expertise and deep-rooted study in dyestuff and textiles, especially in the area of VAT dyes, disperse dyes, acid dyes, as well as auxiliaries.
Equipped with advanced laboratory facilities and experienced analysts, Yancui provides customized solutions for dyestuffs with special strength and shade according to customer's requirement.
Widely connected with all mainstream manufacturers, Yancui always has a keen sense of smell on new trend and cooperates with manufacturers to develop new and rare high valued products through the years.
Depending on actual situations, the products are in compliance with requirements of REACH, ZDHC LEVEL, OEKO-TEX 100, BLUESIGN, etc., and are regularly delivered to influential customers in markets including but not limited to India, Turkey, Japan, Swiss, the Netherlands, the USA.
Vat Dyes
| | | |
| --- | --- | --- |
| Product Name | Strength | CAS No. |
| Vat Blue 66 | 100% | 57456-24-3 |
| Vat blue 1 (Indigo blue granular) | 94% | 482-89-3 |
| Vat Blue 4 | CDP/100% | 81-77-6 |
| Vat Blue 6 | CDP/100% | 130-20-1 |
| Vat Blue 20 | CDP/100% | 116-71-2 |
| Vat Blue 22 | CDP/100% | / |
| Vat Blue DB | 100% | |
| Vat Yellow 2 | CDP/100% | 129-09-9 |
| Vat Yellow 33 | 100% | 12227-50-8 |
| Vat Black YBR | 100% | / |
| Vat Black YBM | 100% | / |
| Vat Black 9 | 100% | 1328-25-2 |
| Vat Black 25 | CDP/100%/ 133%/150% | 4395-53-3 |
| Vat Black 5589 | 100% | / |
| Vat Green 1 | CDP/100% | 128-58-5 |
| Vat Green 3 | CDP/100% | 3271-76-9 |
| VAT Green 49 | 100% | / |
| Vat Red 10 | CDP/100% | 2379-79-5 |
| Vat Red 13 | CDP/100% | 4203-77-4 |
| Vat Red 14 | CDP/100% | 8005-56-9 |
| Vat Red 15 | CDP/100% | 4216-02-8 |
| Vat Red 31 | CDP/100% | 52591-25-0 |
| Vat Red 32 | CDP/100% | 2379-77-3 |
| Vat Grey 5607 | 100% | / |
| Vat Violet 1 | CDP/100% | 1324-55-6 |
| Vat Violet 9 | CDP/100% | 1324-17-0 |
| Vat brown 1 | CDP/100% | 2475-33-4 |
| Vat brown 3 | CDP/100% | 131-92-0 |
| Vat brown 57 | CDP/100% | 12227-28-0 |
| Vat organe 11 | CDP/100% | 2172-33-0 |
Disperse Dyes
| | | |
| --- | --- | --- |
| Product Name | Strength | CAS No. |
| Disperse Navy Blue Hxf | 300% | |
| Disperse Black Ex-Sf | 300% | |
| Disperse Black HWT | 300% | |
| Disperse Blue 60 | 200% | 12217-80-0 |
| Disperse Red 2331 | | |
| Disperse Yellow 211 | 200% | 86836-02-4 |
| UV Absorber AMS | 200% | |
| Dispersed Yellow 184 | 100%&400% | 71838-87-4 |
| Dispersed Red 277 | 100% | 70294-19-8 |
| Dispersed Red 362 | 100% | 158129-94-3 |
| Disperse Blue 359 | | 62570-50-7 |
| Disperse Blue 360 | | 70693-64-0 |
| Disperse Brown 27 | | 94945-21-8 |
| Disperse Violet 57 | | 61968-60-3 |
| Disperse Blue 284 | 500% | |
| Disperse Blue 367 | | 105076-77-5 |
Acid Dyes
| | | |
| --- | --- | --- |
| Product Name | Strength | CAS No. |
| Acid Red 361 | 200% | 61931-22-4 |
| Acid Orange 7 | crude | 633-96-5 |
| Acid Red 299 200% | 200% | 12220-29-0 |
| Acid Black ACE | 115% | |
| Acid Orange 33 | 150% | 6507-77-3 |
| Acid Red 52 | 400% | 3520-42-1 |
| Acid Red 266 | 200% | |
| Acid Blue 225 | 200% | 12216-97-6 |
| Acid Blue 260 | 200% | 62168-86-9 |
Solvent Dyes
| | | |
| --- | --- | --- |
| Product Name | Strength | CAS No. |
| Solvent Blue 104 | | 116-75-6 |
| Solvent Blue 122 | | 67905-17-3 |
| Solvent Green 3 | | 128-80-3 |
| Solvent Red 146 | | 128-80-3 |
| Solvent Yellow 114 | | 75216-45-4 |